Ten male students and five female students, in costumes, standing and seated with one white male teacher. 
This image is from the series taken of the cast members of the school's production of  the play, "The Captain of Plymouth," produced at the school from March 29-March 31, 1909. The white man is presumably Claude Stauffer, the school's Director of Music. These students are probably among those listed as playing the "Principal Characters" in the play, who were: Montreville Yuda, Albert Scott, John White, Lewis Runnels, Harry Wheeler, Dewitt Wheeler, Edward Wolfe, James Mumblehead, Lewis White, Michael Chabitnoy, Carlysle Greenbrier, Emma Esanetuck, and Ernestine Venne. 
The Cumberland County Historical Society has several copies of this image, including one from the scrapbook of student Montreville Yuda, who played Miles Standish.
Note: There were two students named James Mumblehead attending the school in 1909: James W. Mumblehead and James B. Mumblehead. It is unclear which student took part in this production.
Location
CCHS_Everett Strong Collection_14B-17-05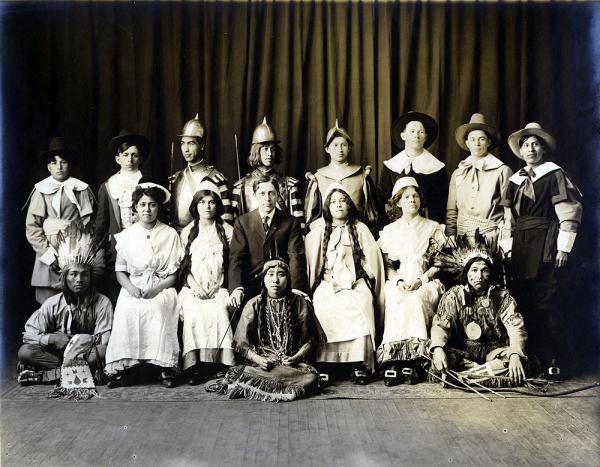 Photographer
Everett Strong, Carlisle, PA