Studio portrait of fifteen male students and nineteen female students, the graduating class of 1899. According to the label on this photo they are: 
Back row: Christian Eastman, Annie Gesis, Joseph Gouge (here J. Jennings Gouge), George Hazlett, Sarah Williams, Chauncey Archiquette, Eliza Smith (here E. Lillian Smith), George Woolfe, Lydia Gardner
Second from the back row: John Limeaux (here probably John Lemieaux), Jennie Brown, Vincent Natalish (here Vincent Natailish), Seichu Atsye, Mary Moon, Jeanette Buckles (here Jeannette M. Buckles), Corbett Lawyer, Lettie Scott (here Lettie B. Scott). 
Third row from the back: Clara Price (here Clara B. Price), Jonas Mitchell (here Jonas S. Mitchell), Dollie Wheelock, Louis McDonald (here Louie McDonald), Robert Emmett, Bertha Dye, Stuart Hazlett (here Stuart I. Hazlett), Nettie Horne (here Jeannette A. Horne)
Front row: Cora Wheeler, Thomas Denomie (here Thomas F. Denomie), Rose Duvernay (here Rose Duverney), Edward Peters (here Edward W. Peters), Dahney George (here Dahney Ellen George), Kendall Paul (here S. Kendall Paul), Olive Larch, Etta Catolst, Minnie Finley (here Minnie H. Finley).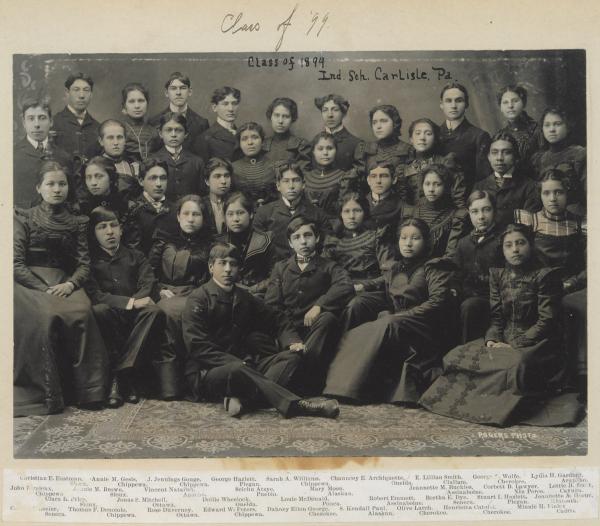 Photographer
A. L. Rogers, Carlisle, PA