Studio portrait of twenty-three male students. The caption for this image, as well as the other copies, identifies them as students who worked in the print shop and gives a date of 1894. Other copies identify the sitters. They are: 
1st. Tier (presumably the back row), Robert Hudson, Leroy W. Kennedy, Leander Gansworth, William Denomie, Timothy Henry, Luther Dahhah, John Sanborn, William Dominick, William Lufkins, Sibbald Smith, Clark Gregg.
2nd. Tier (presumably the middle row): Siceni Nori, Phillip Lavatta, James Wheelock, Levi St. Cyr (Foreman), James Hill, Crow, Thomas Hanbury, Brigman Cornelius. 
3rd. Tier (front row): George Buck, Samuel Sixkiller, Pressly Houk, John Webster, Fred A. Wilson. 
Location
NAA_73431; Photo Lot 81-12 06820500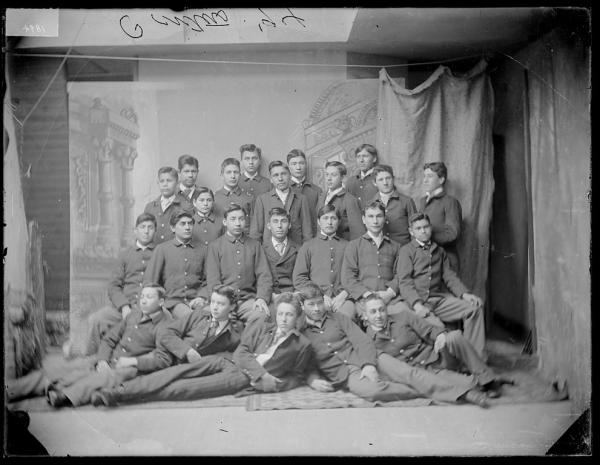 Photographer
John N. Choate, Carlisle, PA