The handwritten note on the reverse side reads: Carlisle Indian School.
The printed note on the reverse side reads: PRINTERS. Commence with those standing an read fro left to right in order, likewise the other two tiers.
1st. Tier.
1. Robert Hudson, Seneca.
2. Leroy W. Kennedy, Seneca.
3. Leander Gansworth, Tuscarora.
4.William Denomie, Chippewa.
5. Timothy Henry, Tuscarora.
6. Luther Dahhah, Kiowa.
7. John Sanborn, Gros Ventre.
8. William Dominick, Iriquois.
9. William Lufkins, Chippewa.
10. Sibbald Smith, Cherokee.
11. Clark Gregg, Assinaboine.
2nd. Tier.
12. Siceni Nori, Pueblo.
13. Phillip Lavatta, Shoshone.
14. James Wheelock, Oneida.
15. Levi St. Cyr, Winnebago. (Foreman.)
16. James Hill, Crow.
17. Thomas Hanbury, Alaskan.
18.Brigman Cornelius, Oneida.
3rd. Tier.
19. George Buck, Sioux.
20. Samuel Sixkiller, Cherokee.
21. Pressly Houk, Piegan.
22. John Webster, Oneida.
23. Fred A. Wilson, Chippewa.
The Cumberland County Historical Society has a copy of this image: CS-CH-109.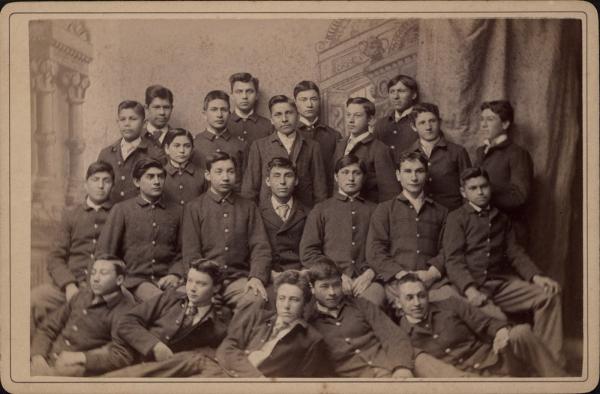 Photographer
John N. Choate, Carlisle, PA