Portrait of three male students and four female students photographed in the clothing they arrived in. Standing behind them are Richard Henry Pratt (second from the left), two uniformed soldiers, and one male student in uniform with a scarf (right). They are posed on the school grounds.
The Cumberland County Historical Society identifies them as Chiricahua Apaches and the date the photograph was taken as 1883. 
Note: A researcher identifies them as (from left to right) Dorothy Naiche Dekhlikiseh, Ramona Chihuahua, Eva Anosaien, Charles Bictowsewah [or Bictonsewah], Penelope Zaen, Ambrose Chachu, and Asa Daklugie who arrived on December 8, 1886.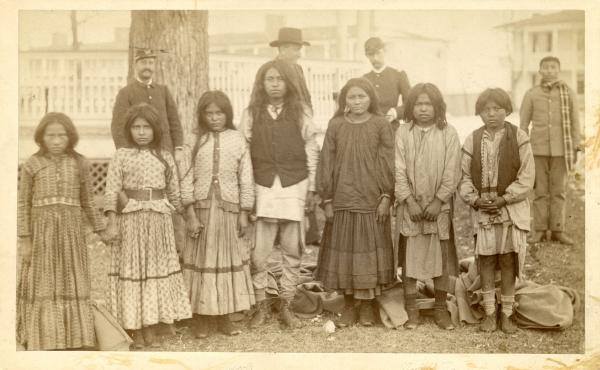 Photographer
John N. Choate, Carlisle, PA