Portrait of the 1894 football team. Bejamin Caswell, the captain of the team, is in the center holding a football with "94" painted on it.  
In The Red Man vol. 12 no 7 (Sept. Oct. Nov., 1894) this image was included as a supplement and the players identified. Back row: Joseph Irwin (Gros Ventre, Hidatsa), Charles Buck (Piegan), Martin Wheelock (Oneida), Bemus Pierce (Seneca), George Shelafo (Chippewa); Middle row: David McFarland (Nez Perce), Delos Lone Wolf (Kiowa), Benjamin American Horse (Sioux), Harvey Warner (Omaha), Harrison Printup (Tuscarora), Antoine Donnell (Chippewa); Front row: Thomas Schanandore (Oneida), Jonas Metoxen (Oneida), Bejamin Caswell (Chippewa), Anthony Austin (Piegan), Pressly Houk (Piegan).
This image also appears in brochure United States Indian School Carlisle, Penna (Carlisle, PA: The School, [1895?]), page 33 with the caption: THE FOOT BALL TEAM has played games with the teams of the Naval Academy, Lehigh University, Bucknell, Dickinson and other colleges, with credit to themselves both for their playing and gentlemanly conduct.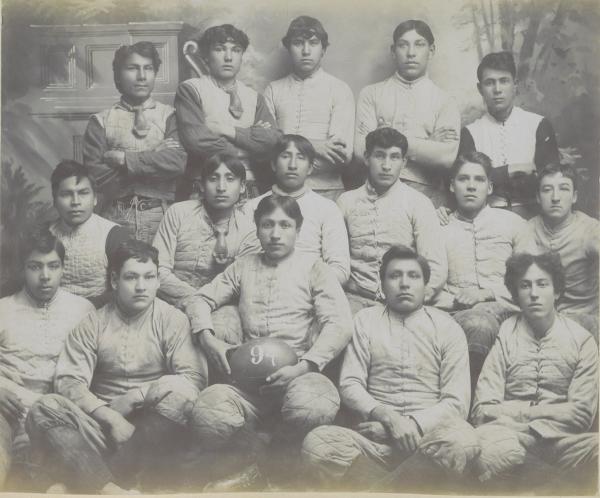 Photographer
John N. Choate, Carlisle, PA