A composite of 16 photographs of the school. The captions read: Small Boys' Quarters, Ass't. Supt's. Quarters, Superintendent's Quarters, Chapel, Guard House, Hospital, Disciplinarian's Quarters, Band Stand, After School, School Building, Large Boys' Quarters, Christmas Dinner, School Room, Office & Teachers' Quarters, Gymnasium, Girls' Quarters, Girls' Industrial Hall and Dining-room, Shops.
The handwritten note reads: Buildings of Government Indian School at Carlisle, Pa.
Note: The Cumberland County Historical Society also has a copy of this image: PA-CH2-022.
Location
PC 2002.2, folder 2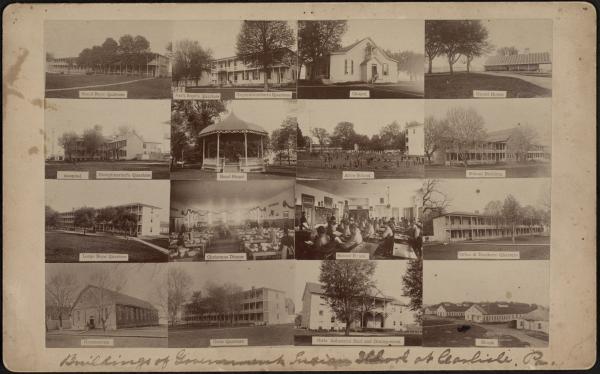 Photographer
John N. Choate, Carlisle, PA