Weber, B. B.
Displaying 1 - 2 of 2 records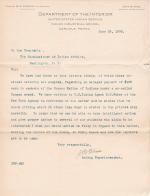 June 26, 1905
J. R. Wise inquires about Kansas Award payments for Seneca Nation students.
Format:
Letters/Correspondence
Repository:
National Archives and Records Administration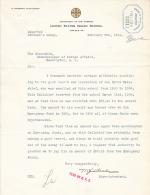 February 9, 1911 - March 7, 1911
These materials include correspondence regarding a request for the funds left at the Carlisle Indian School of Cyrus Tallchief when he left the school. The Second Assistant Commissioner informed the school that they should pay the funds to Tallchief directly.
Format:
Financial Documents, Letters/Correspondence
Repository:
National Archives and Records Administration