Studio portrait of nine female and ten male students. 
The top caption reads: GRADUATING CLASS OF 1894, INDIAN INDUSTRIAL SCHOOL, CARLISLE, PA.
The lower caption reads: Flora Campbell, Alaskan. Howard Gansworth, Tuscarora. Thos. B. Bear, Sioux. Martha Napawat, Kiowa. Susie Metoxen, Oneida. Emmanuel Bellefeuille, Chippewa. Wm. H. Tygar, Shawnee. Belinda Archiquette, Oneida. Siceni Nori, Pueblo. Andrew Beard, Sioux. Henry Warren, Chipppewa. Wm. Denomie, Chippewa. Ida Warren, Chippewa. Hugh Sowcea, Pueblo. Minnie M. Yandell, Bannock. James D. Flannery, Alaskan. Florence L. Wells, Alaskan. Florence Miller, Stockbridge. Ida Powlas, Oneida.
The handwritten note on the reverse reads: Chas. W Buck.
This image appears in United States Indian School Carlisle, Penna (Carlisle, PA: The School, [1895?]), p. 21.
The Cumberland County Historical Society also has a copy of this photograph (11-A-04). 
Location
CIS-MC-003, box 1, folder 12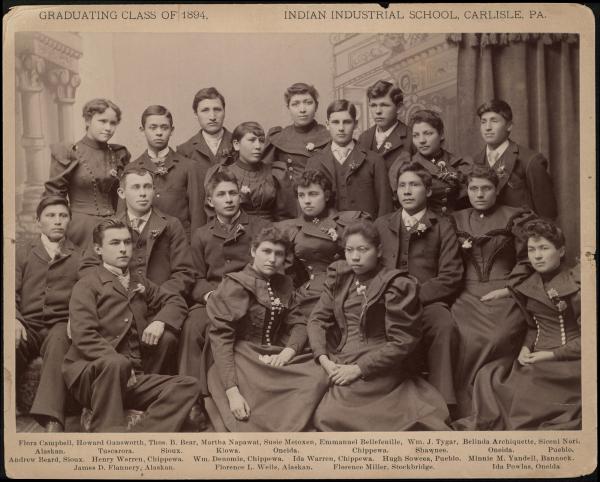 Photographer
John N. Choate, Carlisle, PA