The photograph was taken looking south. Moving from left to right the buildings visible are: the Superintendent's Quarters, the Administration Building, the Guard House, the Academic Building, and the back of the Girls' Quarters. Male students are visible in the foreground where a tennis court is laid out, and females students can be seen in the background. 
This image also appears in pamphlet United States Indian School Carlisle, Penna (Carlisle, PA: The School, [1895?]), p. 6. 
This print is marked as being by photographer John H. Andrews. However, it is possible that the image was originally taken by student photographer John Leslie, who is credited with many of the images in the pamphlet, and perhaps was only printed by Andrews. 
Location
CIS-MC-003, box 1, folder 8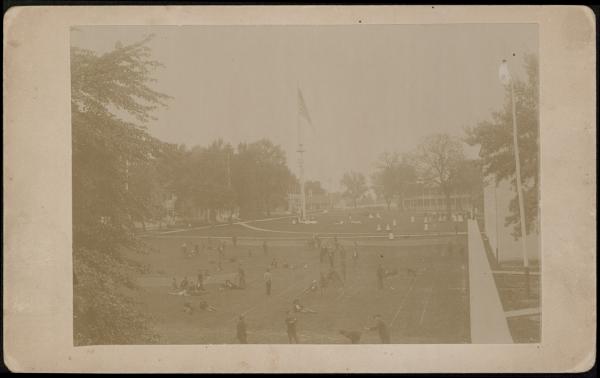 Photographer
John H. Andrews, Carlisle, PA