Portrait of twelve male students, all wearing uniforms and holding instruments, in front of the bandstand on the school grounds. In the glass plate negative version of this image [version 1] a white woman, also holding an instrument, can be seen at the far right. In the print versions of this image she is almost entirely cropped out, with only a bit of her black skirt visible. 
This is the school band and the woman is almost definitely Mrs. Walter E. Baker who provided the funds to buy the instruments for the band. The school newspaper reported that she visited the school on November 11, 1881 and the the "boys with the horns" played for her. 
This copy of the image from the American Philosophical Society has handwritten captions identifying some of the students. They are, from left to right: Howard, unknown, Conrad, Amos, Elwood, D. Tucker, T. Carlyle, Joshua, Reuben, and Luther. The two students at the far right are unidentified.  
Location
Speck-Choate Photo Collection Mss.B.Sp3c, Image 3a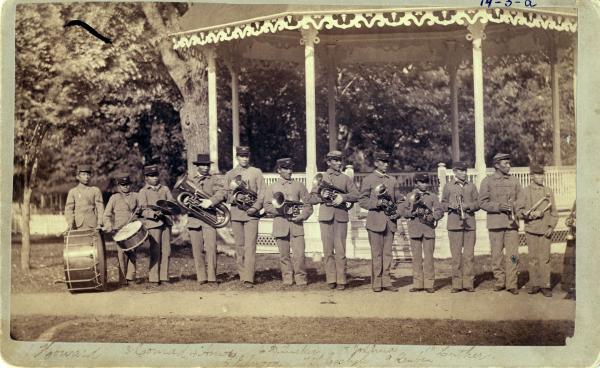 Photographer
John N. Choate, Carlisle, PA