Portrait of Richard Henry Pratt with school employees and their families posed on the school grounds. 
The Cumberland County Historical Society's copy of this image has information provided by the donor, Hattie Frehn, the daughter of Philip Norman, one of the employees pictured. She provides a date of June 17, 1886 for the photograph. She also identifies some of the employees: Philip Norman (Band Leader and Painter) is fourth from the left, back row; O.T. Harris (Wagonmaster and Blacksmith) is fifth from the left; W.H. Morrett (Shoemaker) is sixth from the left; George Foulk (Teamster) is at the far right; A. J. Standing (Assistant Superintendent) is in the second row of adults from the front, seventh from the right. For additional information, see the reverse of the photograph.
The Cumberland County Historical Society has three copies of this image cataloged under 10-A-07. The image for copy 2 is uploaded here with the reverse of copy 1. There is minor damage to the copy 1 image.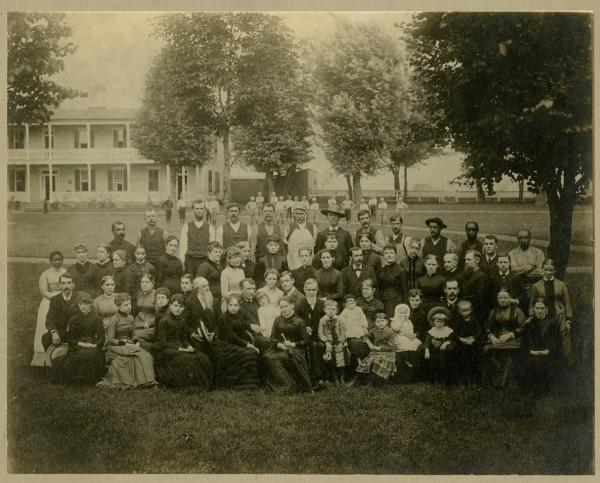 Photographer
John N. Choate, Carlisle, PA