Group portrait of sixteen male students from the 1895 football team. 
In his 1951 book, Fabulous Redmen, John Steckbeck identifies the sitters as: top row (l to r), Lone Wolf, McFarland, Smith, H. Pierce, and Nori; middle row (l to r), Redwater, Cayou, Metoxen, B. Pierce, Seneca and Printup; bottom row (l to r), Unidentified, Wheelock, Hudson, Miller, and Unidentified. Interestingly, some of these names do not appear on Steckbeck's roster for the 1895 team in the same book. The CCHS print of the image does not appear to be labeled so it is not clear what Steckbeck's identification is based on, presumably another copy of the image. 
See Cumberland County Historical Society image PA-CH3-093 (in Related Images) for a larger group of the same team.
Location
CCHS_PA-CH1-084d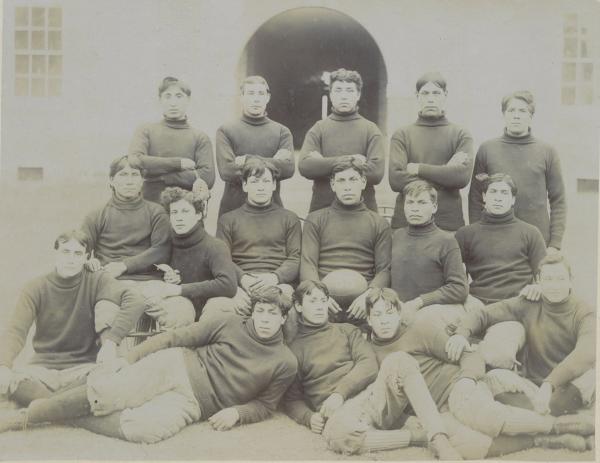 Photographer
John H. Andrews, Carlisle, PA