The handwritten note on the reverse side reads: Carlisle Indian School Football Team 1896.
Although this photo is not captioned, John Steckbeck in Fabulous Redmen (1951) lists the 1896 team as: Frank Cayou, Harrison, Frank Hudson, Jacob Jamison, Delos Lonewolf, David McFarland, Jonas Metoxen, Artie Miller, Dan Morrison, Bemus Pierce, Hawley Pierce, Harrison Printup, Edward Rogers, Isaac Seneca, and Martin Wheelock. Steckbeck frequently identifies only the last names for players, including "Harrison." It seems most likely that this is also a reference to Harrison Printup, although it is possible it is Harrison Marshall.
Note: The Cumberland County Historical Society also has a copy of this image (PA-CH1-084f).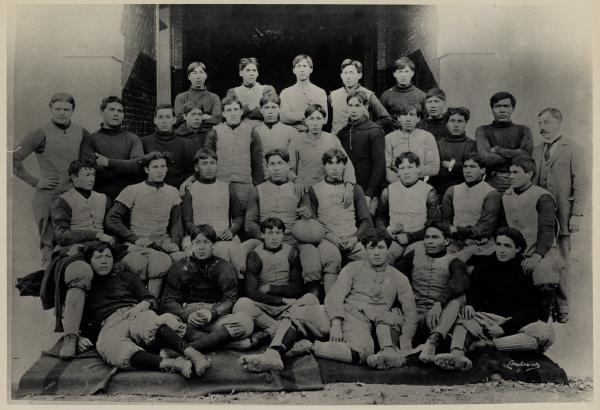 Photographer
John H. Andrews, Carlisle, PA