Dagenette, Esther
Displaying 1 - 2 of 2 records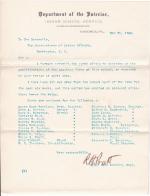 May 31, 1900
Cover letter forwarding cards covering the qualifications of the teachers at the Carlisle Indian School for the 1900 school year.
Format:
Letters/Correspondence
Topics:
Repository:
National Archives and Records Administration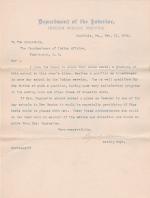 February 11, 1902
Edgar A. Allen recommends Annie Lewis for a housekeeper position in a day school in the Indian Service. Allen notes that if Mrs. Dagnette accepts a position at one of the day schools in New Mexico he recommends placing Lewis with her.
Format:
Letters/Correspondence
Topics:
Repository:
National Archives and Records Administration