Studio portrait of a large group of male and female students with a white male teacher in the center of the group. The caption identifies them as students who worked in the print shop. 
One copy of this image has the sitters identified. They are, back row, left to right: William Denomie, Robert Hudson, Leroy W. Kennedy, Leander Gansworth, Timothy Henry, W.R. Claudy (Assistnt Printer), John Sanborn, Luther Dahhah, William Dominick, William Lufkins, Sibbald Smith, Clark Gregg; middle row, left to right: Fred A. Wilson, Siceni Nori, Philp Lavatta, Levi Saint Cyr (Foreman), M. Burgess (Sup't of Printing), James Riley Wheelock, Thomas Hanbury, Brigman, John Webster; front row, left to right: George Buck, Pressly Houk, Susie McDougal, Alice Lambert, Ida LaChapelle, James Hill, Samuel Six Killer.    
W. Clandy and Marianna Burgess were staff members.
Note: The name "John" in the lower right of this image is part of a caption for a different image. 
The Cumberland County Historical Society has four copies of this image: PA-CH3-057a, BS-CH-041, LE-046, and 13-18-01. 
This image appears in United States Indian School Carlisle, Penna (Carlisle, PA: The School, [1895?]), p. 49. The caption for the image is: GROUP OF PRINTERS. 
Students must be fairly well advanced in their school work before they can enter the printing office. 
Location
CCHS_PA_CH3-057a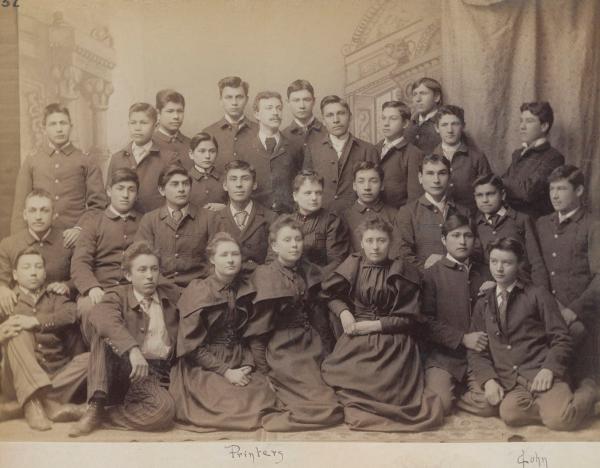 Photographer
John N. Choate, Carlisle, PA